Aerocrete production mini-conveyor line, with capacity from 12 m³
Configeration
| | |
| --- | --- |
| Mold sides (1,2×0,6×0,3 m for 12 gas-concrete blocks) (set) | 7 |
| Support for mechanical pusher | 2 |
| Penetrometer | 1 |
| Transfer cart | 2 |
| Mold bases (1,2×0,6×0,3 m for 6 gas-concrete blocks) with the metal bottom | 21 |
| Transfer rail track | 6 |
| Rail track for moveble molds | 22 |
| Sieve for pouring mixture into the mold | 1 |
| Scraper blade for cutting the top crust | 1 |
| Mixer-activator (0,25 m³) | 1 |
| Mechanical pusher | 2 |
| Cutting guide with a kit of saws, for 6 blocks | 1 |
Characteristics
| | |
| --- | --- |
| The required number of staff | 3 People |
| Required space | от 65 m² |
| Necessary water temperature | 50-60 C⁰ |
| Power consumption | 1,5 kWh |
| Line dimensions | 9,4x3,6x1,6 m |
| Necessary room temperature | от 15 C⁰ |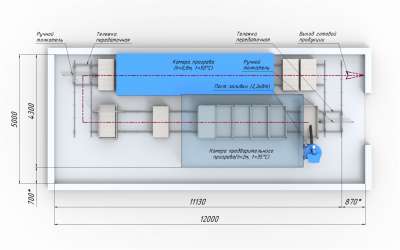 Description
A mini-conveyor type aerocrete production plant with capacity for 12 m³ per day. The plant consists of a stationary mixer, movable molds on the rails with manual mechanical pushers,  and a template for manual cutting of aerocrete bricks.
This plant allows you to organize the producing of aerocrete blocks in the smallest possible room.
This is a minimal complete of this type of plant. You have an opportunity to increase the productivity of the plant by buying additional molds. Also, this plant can be substantially upgraded into semi-automatic type by replacing the manual cutting template to a semi-automatic cutting machine.